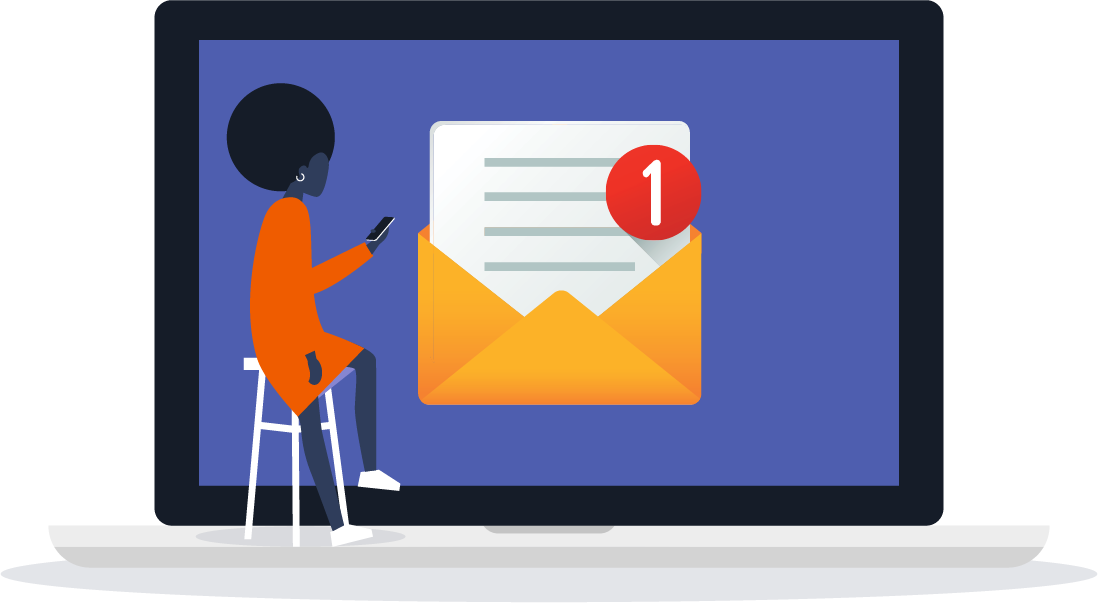 Show you mean business. Set up your business for success w

ith a professional email address.

Host your emails on a secure, encrypted, privacy-guaranteed and ad-free email free service.

Email addresses that match domain names show professionalism. Make a great first impression.

Access your emails through browser, mobile app or

desktop app.

Our support team is always willing & ready to
assist you with all your 
quires
.
"The process of setting up was very easy. The system looks so professional & is easy to use. I am really enjoying it."
Thulani Radebe
Go Ye There Logistics
" Cost-effective (no monthly payments), great system and great support from basic hosting"
Thuso Nethononda
Essential Air
"Amazing mobile app, I can manage multiple email accounts in 1 app. Has made managing business email a breeze"
Jafta Masoko
Abantu Besizwe Funerals
Lite (Popular)
User billed once off
5 GB Space Per User

Up to 25 MB Attachments

1-2 Email Accounts Set Up

FREE .co.za /org.za (1st Year)

Trusted by Over 10 Million Users Worldwide

Access Emails on Browsers, Mobile App & Desktop App

Access to Great Cloud Software Suite with Free Invoice, Free CRM & More
Medium
User billed once off
5GB Space Per User

Up to 25 MB Attachments

3-4 Email Accounts Set Up

Free .co.za / .org.za domain (1st year)

Trusted by Over 10 Million Users Worldwide

Access Emails on Browsers, Mobile App & Desktop App

Access to Great Cloud Software Suite with Free Invoice, Free CRM & More
5GB space per user

Up to 25 MB Attachments

5 Email Accounts Set Up

Free .co.za / .org.za domain (1st year)

Trusted by Over 10 Million Users Worldwide

Access Emails on Browsers, Mobile App & Desktop App

Access to Great Cloud Software Suite with Free Invoice, Free CRM & More
Let's professionalize your business email address
eyJpZCI6IjExIiwibGFiZWwiOiJFbWFpbCBTZXR1cCIsImFjdGl2ZSI6IjEiLCJvcmlnaW5hbF9pZCI6IjQiLCJ1bmlxdWVfaWQiOiJ2Ym4yM2EiLCJwYXJhbXMiOnsiZW5hYmxlRm9yTWVtYmVyc2hpcCI6IjAiLCJ0cGwiOnsid2lkdGgiOiIxMDAiLCJ3aWR0aF9tZWFzdXJlIjoiJSIsImJnX3R5cGVfMCI6Im5vbmUiLCJiZ19pbWdfMCI6IiIsImJnX2NvbG9yXzAiOiIjY2RjZGNkIiwiYmdfdHlwZV8xIjoiY29sb3IiLCJiZ19pbWdfMSI6IiIsImJnX2NvbG9yXzEiOiIjY2RjZGNkIiwiYmdfdHlwZV8yIjoiY29sb3IiLCJiZ19pbWdfMiI6IiIsImJnX2NvbG9yXzIiOiIjZTU4NzI1IiwiYmdfdHlwZV8zIjoiY29sb3IiLCJiZ19pbWdfMyI6IiIsImJnX2NvbG9yXzMiOiIjZmY4MDdjIiwiZmllbGRfZXJyb3JfaW52YWxpZCI6IiIsImZvcm1fc2VudF9tc2ciOiJUaGFuayB5b3UgZm9yIGNvbnRhY3RpbmcgdXMhIiwiZm9ybV9zZW50X21zZ19jb2xvciI6IiM0YWU4ZWEiLCJoaWRlX29uX3N1Ym1pdCI6IjEiLCJyZWRpcmVjdF9vbl9zdWJtaXQiOiIiLCJ0ZXN0X2VtYWlsIjoiaGFwcHlAdG93bnphcm1lZGlhLmFnZW5jeSIsInNhdmVfY29udGFjdHMiOiIxIiwiZXhwX2RlbGltIjoiOyIsImZiX2NvbnZlcnRfYmFzZSI6IiIsImZpZWxkX3dyYXBwZXIiOiI8ZGl2IFtmaWVsZF9zaGVsbF9jbGFzc2VzXSBbZmllbGRfc2hlbGxfc3R5bGVzXT5bZmllbGRdPFwvZGl2PiJ9LCJmaWVsZHMiOlt7ImJzX2NsYXNzX2lkIjoiNiIsIm5hbWUiOiJmaXJzdF9uYW1lIiwibGFiZWwiOiIiLCJwbGFjZWhvbGRlciI6IkZpcnN0IE5hbWUiLCJ2YWx1ZSI6IiIsImh0bWwiOiJ0ZXh0IiwibWFuZGF0b3J5IjoiMSIsIm1pbl9zaXplIjoiIiwibWF4X3NpemUiOiIiLCJhZGRfY2xhc3NlcyI6IiIsImFkZF9zdHlsZXMiOiIiLCJhZGRfYXR0ciI6IiIsInZuX29ubHlfbnVtYmVyIjoiMCIsInZuX29ubHlfbGV0dGVycyI6IjAiLCJ2bl9wYXR0ZXJuIjoiMCJ9LHsiYnNfY2xhc3NfaWQiOiI2IiwibmFtZSI6Imxhc3RfbmFtZSIsImxhYmVsIjoiIiwicGxhY2Vob2xkZXIiOiJMYXN0IE5hbWUiLCJ2YWx1ZSI6IiIsImh0bWwiOiJ0ZXh0IiwibWFuZGF0b3J5IjoiMCIsIm1pbl9zaXplIjoiIiwibWF4X3NpemUiOiIiLCJhZGRfY2xhc3NlcyI6IiIsImFkZF9zdHlsZXMiOiIiLCJhZGRfYXR0ciI6IiIsInZuX29ubHlfbnVtYmVyIjoiMCIsInZuX29ubHlfbGV0dGVycyI6IjAiLCJ2bl9wYXR0ZXJuIjoiMCJ9LHsiYnNfY2xhc3NfaWQiOiIxMiIsIm5hbWUiOiJlbWFpbCIsImxhYmVsIjoiIiwicGxhY2Vob2xkZXIiOiJFbWFpbCIsInZhbHVlIjoiIiwiaHRtbCI6ImVtYWlsIiwibWFuZGF0b3J5IjoiMSIsIm1pbl9zaXplIjoiIiwibWF4X3NpemUiOiIiLCJhZGRfY2xhc3NlcyI6IiIsImFkZF9zdHlsZXMiOiIiLCJhZGRfYXR0ciI6IiIsInZuX29ubHlfbnVtYmVyIjoiMCIsInZuX29ubHlfbGV0dGVycyI6IjAiLCJ2bl9wYXR0ZXJuIjoiMCJ9LHsiYnNfY2xhc3NfaWQiOiIxMiIsIm5hbWUiOiJQaG9uZSIsImxhYmVsIjoiIiwicGxhY2Vob2xkZXIiOiJQaG9uZSIsInZhbHVlIjoiIiwidmFsdWVfcHJlc2V0IjoiIiwiaHRtbCI6Im51bWJlciIsIm1hbmRhdG9yeSI6IjAiLCJtaW5fc2l6ZSI6IiIsIm1heF9zaXplIjoiIiwiYWRkX2NsYXNzZXMiOiIiLCJhZGRfc3R5bGVzIjoiIiwiYWRkX2F0dHIiOiIiLCJ2bl9vbmx5X251bWJlciI6IjAiLCJ2bl9vbmx5X2xldHRlcnMiOiIwIiwidm5fcGF0dGVybiI6IiIsInZuX2VxdWFsIjoiIiwiaWNvbl9jbGFzcyI6IiIsImljb25fc2l6ZSI6IiIsImljb25fY29sb3IiOiIiLCJ0ZXJtcyI6IiJ9LHsiYnNfY2xhc3NfaWQiOiIxMiIsIm5hbWUiOiJEZXNpcmVkLURvbWFpbiIsImxhYmVsIjoiIiwicGxhY2Vob2xkZXIiOiJEZXNpcmVkIERvbWFpbiBOYW1lIiwidmFsdWUiOiIiLCJ2YWx1ZV9wcmVzZXQiOiIiLCJodG1sIjoidGV4dCIsIm1hbmRhdG9yeSI6IjAiLCJtaW5fc2l6ZSI6IiIsIm1heF9zaXplIjoiIiwiYWRkX2NsYXNzZXMiOiIiLCJhZGRfc3R5bGVzIjoiIiwiYWRkX2F0dHIiOiIiLCJ2bl9vbmx5X251bWJlciI6IjAiLCJ2bl9vbmx5X2xldHRlcnMiOiIwIiwidm5fcGF0dGVybiI6IiIsInZuX2VxdWFsIjoiIiwiaWNvbl9jbGFzcyI6IiIsImljb25fc2l6ZSI6IiIsImljb25fY29sb3IiOiIiLCJ0ZXJtcyI6IiJ9LHsiYnNfY2xhc3NfaWQiOiIxMiIsIm5hbWUiOiJTZWxlY3RfUHJvZHVjdCIsImxhYmVsIjoiU2VsZWN0IFByb2R1Y3QiLCJ2YWx1ZSI6IiIsInZhbHVlX3ByZXNldCI6IiIsImh0bWwiOiJyYWRpb2J1dHRvbnMiLCJtYW5kYXRvcnkiOiIwIiwibGFiZWxfZGVsaW0iOiIiLCJkaXNwbGF5IjoiY29sIiwiYWRkX2NsYXNzZXMiOiIiLCJhZGRfc3R5bGVzIjoiIiwiYWRkX2F0dHIiOiIiLCJpY29uX2NsYXNzIjoiIiwiaWNvbl9zaXplIjoiIiwiaWNvbl9jb2xvciI6IiIsInRlcm1zIjoiIiwib3B0aW9ucyI6W3sibmFtZSI6IkVtYWlsIExpdGUiLCJsYWJlbCI6IkVtYWlsIExpdGUifSx7Im5hbWUiOiJFbWFpbCBNZWRpdW0iLCJsYWJlbCI6IkVtYWlsIE1lZGl1bSJ9LHsibmFtZSI6IkVtYWlsIFBybyIsImxhYmVsIjoiRW1haWwgUHJvIn1dfSx7ImJzX2NsYXNzX2lkIjoiMTIiLCJuYW1lIjoic2VuZCIsImxhYmVsIjoiT1JERVIgTk9XIiwiaHRtbCI6InN1Ym1pdCIsImFkZF9jbGFzc2VzIjoiIiwiYWRkX3N0eWxlcyI6IiIsImFkZF9hdHRyIjoiIiwiaWNvbl9jbGFzcyI6IiIsImljb25fc2l6ZSI6IiIsImljb25fY29sb3IiOiIiLCJ0ZXJtcyI6IiJ9XSwib3B0c19hdHRycyI6eyJiZ19udW1iZXIiOiI0In19LCJpbWdfcHJldmlldyI6InNpbXBsZS13aGl0ZS5wbmciLCJ2aWV3cyI6IjQ2MyIsInVuaXF1ZV92aWV3cyI6IjIxNCIsImFjdGlvbnMiOiIzIiwic29ydF9vcmRlciI6IjQiLCJpc19wcm8iOiIwIiwiYWJfaWQiOiIwIiwiZGF0ZV9jcmVhdGVkIjoiMjAxNi0wNS0wMyAxNTowMTowMyIsImltZ19wcmV2aWV3X3VybCI6Imh0dHBzOlwvXC9zdXBzeXN0aWMtNDJkNy5reGNkbi5jb21cL19hc3NldHNcL2Zvcm1zXC9pbWdcL3ByZXZpZXdcL3NpbXBsZS13aGl0ZS5wbmciLCJ2aWV3X2lkIjoiMTFfOTAzNDAxIiwidmlld19odG1sX2lkIjoiY3NwRm9ybVNoZWxsXzExXzkwMzQwMSIsImNvbm5lY3RfaGFzaCI6IjYzOWVkYzMwMTdiNjQ1MjA5NzY3NzNhZjEyNTVjZGNhIn0=