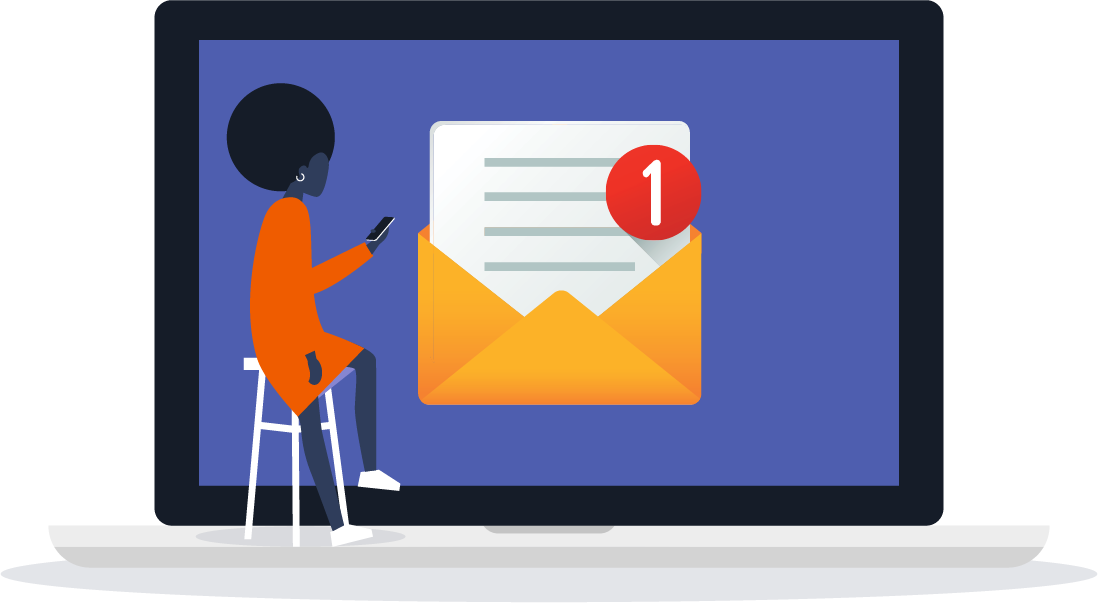 Show you mean business. Set up your business for success w

ith a professional email address.

Make a great first impression with a professional business email address. We provide a reliable, responsive platform so you can manage your email, contacts and calendar.

Email addresses that match domain names show professionalism. Make a great first impression.

You can access your emails through webmail/browser, mobile app or desktop app wherever you are.

Our dedicate support team is always willing and ready to assist with all your technical questions.
"The process of setting up was very easy. The system looks so professional & is easy to use. I am really enjoying it."
Thulani Radebe
Go Ye There Logistics
" Cost-effective (no monthly payments), great system and great support from basic hosting"
Thuso Nethononda
Essential Air
"Amazing mobile app, I can manage multiple email accounts in 1 app. Has made managing business email a breeze"
Jafta Masoko
Abantu Besizwe Funerals
Free .co.za / .org.za domain (1st year)

Email setup

1 email account

5GB space per user

Up to 25MB attachments

Access emails on browser, mobile app and desktop app
Medium
User billed once off
Free .co.za / .org.za domain (1st year)

Email setup

3 email accounts

5GB space per user

Up to 25MB attachments

Access emails on browser, mobile app and desktop app
Free .co.za / .org.za domain (1st year)

Email setup

5 email accounts

5GB space per user

Up to 25MB attachments

Access emails on browser, mobile app and desktop app
Call or WhatsApp us on 064 925 3326 or enquire below
eyJpZCI6IjExIiwibGFiZWwiOiJFbWFpbCBTZXR1cCIsImFjdGl2ZSI6IjEiLCJvcmlnaW5hbF9pZCI6IjQiLCJ1bmlxdWVfaWQiOiJ2Ym4yM2EiLCJwYXJhbXMiOnsiZW5hYmxlRm9yTWVtYmVyc2hpcCI6IjAiLCJ0cGwiOnsid2lkdGgiOiIxMDAiLCJ3aWR0aF9tZWFzdXJlIjoiJSIsImJnX3R5cGVfMCI6Im5vbmUiLCJiZ19pbWdfMCI6IiIsImJnX2NvbG9yXzAiOiIjY2RjZGNkIiwiYmdfdHlwZV8xIjoiY29sb3IiLCJiZ19pbWdfMSI6IiIsImJnX2NvbG9yXzEiOiIjY2RjZGNkIiwiYmdfdHlwZV8yIjoiY29sb3IiLCJiZ19pbWdfMiI6IiIsImJnX2NvbG9yXzIiOiIjZTU4NzI1IiwiYmdfdHlwZV8zIjoiY29sb3IiLCJiZ19pbWdfMyI6IiIsImJnX2NvbG9yXzMiOiIjZmY4MDdjIiwiZmllbGRfZXJyb3JfaW52YWxpZCI6IiIsImZvcm1fc2VudF9tc2ciOiJUaGFuayB5b3UgZm9yIGNvbnRhY3RpbmcgdXMhIiwiZm9ybV9zZW50X21zZ19jb2xvciI6IiM0YWU4ZWEiLCJoaWRlX29uX3N1Ym1pdCI6IjEiLCJyZWRpcmVjdF9vbl9zdWJtaXQiOiIiLCJ0ZXN0X2VtYWlsIjoiaGFwcHlAdG93bnphcm1lZGlhLmFnZW5jeSIsInNhdmVfY29udGFjdHMiOiIxIiwiZXhwX2RlbGltIjoiOyIsImZiX2NvbnZlcnRfYmFzZSI6IiIsImZpZWxkX3dyYXBwZXIiOiI8ZGl2IFtmaWVsZF9zaGVsbF9jbGFzc2VzXSBbZmllbGRfc2hlbGxfc3R5bGVzXT5bZmllbGRdPFwvZGl2PiJ9LCJmaWVsZHMiOlt7ImJzX2NsYXNzX2lkIjoiNiIsIm5hbWUiOiJmaXJzdF9uYW1lIiwibGFiZWwiOiIiLCJwbGFjZWhvbGRlciI6IkZpcnN0IE5hbWUiLCJ2YWx1ZSI6IiIsImh0bWwiOiJ0ZXh0IiwibWFuZGF0b3J5IjoiMSIsIm1pbl9zaXplIjoiIiwibWF4X3NpemUiOiIiLCJhZGRfY2xhc3NlcyI6IiIsImFkZF9zdHlsZXMiOiIiLCJhZGRfYXR0ciI6IiIsInZuX29ubHlfbnVtYmVyIjoiMCIsInZuX29ubHlfbGV0dGVycyI6IjAiLCJ2bl9wYXR0ZXJuIjoiMCJ9LHsiYnNfY2xhc3NfaWQiOiI2IiwibmFtZSI6Imxhc3RfbmFtZSIsImxhYmVsIjoiIiwicGxhY2Vob2xkZXIiOiJMYXN0IE5hbWUiLCJ2YWx1ZSI6IiIsImh0bWwiOiJ0ZXh0IiwibWFuZGF0b3J5IjoiMCIsIm1pbl9zaXplIjoiIiwibWF4X3NpemUiOiIiLCJhZGRfY2xhc3NlcyI6IiIsImFkZF9zdHlsZXMiOiIiLCJhZGRfYXR0ciI6IiIsInZuX29ubHlfbnVtYmVyIjoiMCIsInZuX29ubHlfbGV0dGVycyI6IjAiLCJ2bl9wYXR0ZXJuIjoiMCJ9LHsiYnNfY2xhc3NfaWQiOiIxMiIsIm5hbWUiOiJlbWFpbCIsImxhYmVsIjoiIiwicGxhY2Vob2xkZXIiOiJFbWFpbCIsInZhbHVlIjoiIiwiaHRtbCI6ImVtYWlsIiwibWFuZGF0b3J5IjoiMSIsIm1pbl9zaXplIjoiIiwibWF4X3NpemUiOiIiLCJhZGRfY2xhc3NlcyI6IiIsImFkZF9zdHlsZXMiOiIiLCJhZGRfYXR0ciI6IiIsInZuX29ubHlfbnVtYmVyIjoiMCIsInZuX29ubHlfbGV0dGVycyI6IjAiLCJ2bl9wYXR0ZXJuIjoiMCJ9LHsiYnNfY2xhc3NfaWQiOiIxMiIsIm5hbWUiOiJQaG9uZSIsImxhYmVsIjoiIiwicGxhY2Vob2xkZXIiOiJQaG9uZSIsInZhbHVlIjoiIiwidmFsdWVfcHJlc2V0IjoiIiwiaHRtbCI6Im51bWJlciIsIm1hbmRhdG9yeSI6IjAiLCJtaW5fc2l6ZSI6IiIsIm1heF9zaXplIjoiIiwiYWRkX2NsYXNzZXMiOiIiLCJhZGRfc3R5bGVzIjoiIiwiYWRkX2F0dHIiOiIiLCJ2bl9vbmx5X251bWJlciI6IjAiLCJ2bl9vbmx5X2xldHRlcnMiOiIwIiwidm5fcGF0dGVybiI6IiIsInZuX2VxdWFsIjoiIiwiaWNvbl9jbGFzcyI6IiIsImljb25fc2l6ZSI6IiIsImljb25fY29sb3IiOiIiLCJ0ZXJtcyI6IiJ9LHsiYnNfY2xhc3NfaWQiOiIxMiIsIm5hbWUiOiJEZXNpcmVkLURvbWFpbiIsImxhYmVsIjoiIiwicGxhY2Vob2xkZXIiOiJEZXNpcmVkIERvbWFpbiIsInZhbHVlIjoiIiwidmFsdWVfcHJlc2V0IjoiIiwiaHRtbCI6InRleHQiLCJtYW5kYXRvcnkiOiIwIiwibWluX3NpemUiOiIiLCJtYXhfc2l6ZSI6IiIsImFkZF9jbGFzc2VzIjoiIiwiYWRkX3N0eWxlcyI6IiIsImFkZF9hdHRyIjoiIiwidm5fb25seV9udW1iZXIiOiIwIiwidm5fb25seV9sZXR0ZXJzIjoiMCIsInZuX3BhdHRlcm4iOiIiLCJ2bl9lcXVhbCI6IiIsImljb25fY2xhc3MiOiIiLCJpY29uX3NpemUiOiIiLCJpY29uX2NvbG9yIjoiIiwidGVybXMiOiIifSx7ImJzX2NsYXNzX2lkIjoiMTIiLCJuYW1lIjoiU2VsZWN0X1Byb2R1Y3QiLCJsYWJlbCI6IlNlbGVjdCBQcm9kdWN0IiwidmFsdWUiOiIiLCJ2YWx1ZV9wcmVzZXQiOiIiLCJodG1sIjoicmFkaW9idXR0b25zIiwibWFuZGF0b3J5IjoiMCIsImxhYmVsX2RlbGltIjoiIiwiZGlzcGxheSI6ImNvbCIsImFkZF9jbGFzc2VzIjoiIiwiYWRkX3N0eWxlcyI6IiIsImFkZF9hdHRyIjoiIiwiaWNvbl9jbGFzcyI6IiIsImljb25fc2l6ZSI6IiIsImljb25fY29sb3IiOiIiLCJ0ZXJtcyI6IiIsIm9wdGlvbnMiOlt7Im5hbWUiOiJFbWFpbCBMaXRlIiwibGFiZWwiOiJFbWFpbCBMaXRlIn0seyJuYW1lIjoiRW1haWwgTWVkaXVtIiwibGFiZWwiOiJFbWFpbCBNZWRpdW0ifSx7Im5hbWUiOiJFbWFpbCBQcm8iLCJsYWJlbCI6IkVtYWlsIFBybyJ9XX0seyJic19jbGFzc19pZCI6IjEyIiwibmFtZSI6InNlbmQiLCJsYWJlbCI6IlNlbmQiLCJodG1sIjoic3VibWl0IiwiYWRkX2NsYXNzZXMiOiIiLCJhZGRfc3R5bGVzIjoiIiwiYWRkX2F0dHIiOiIifV0sIm9wdHNfYXR0cnMiOnsiYmdfbnVtYmVyIjoiNCJ9fSwiaW1nX3ByZXZpZXciOiJzaW1wbGUtd2hpdGUucG5nIiwidmlld3MiOiIyOTAiLCJ1bmlxdWVfdmlld3MiOiIxMjYiLCJhY3Rpb25zIjoiMSIsInNvcnRfb3JkZXIiOiI0IiwiaXNfcHJvIjoiMCIsImFiX2lkIjoiMCIsImRhdGVfY3JlYXRlZCI6IjIwMTYtMDUtMDMgMTU6MDE6MDMiLCJpbWdfcHJldmlld191cmwiOiJodHRwczpcL1wvc3Vwc3lzdGljLTQyZDcua3hjZG4uY29tXC9fYXNzZXRzXC9mb3Jtc1wvaW1nXC9wcmV2aWV3XC9zaW1wbGUtd2hpdGUucG5nIiwidmlld19pZCI6IjExXzc4MzM2NSIsInZpZXdfaHRtbF9pZCI6ImNzcEZvcm1TaGVsbF8xMV83ODMzNjUiLCJjb25uZWN0X2hhc2giOiI2ZjRiMzAzNTVlZDVjODRiYTk4OGI4MGU5YjhhMGZlNSJ9